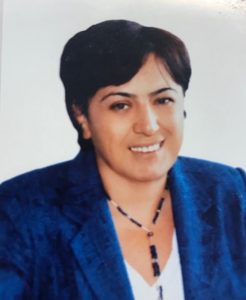 Prof. Dr. Buket AKKOYUNLU
Dean
The Faculty of Arts and Sciences
The Faculty of Arts and Sciences was one  of the founding faculties of Çankaya University, and began its educational mission in 1997 with two departments: English Language and Literature, and Mathematics-Computer Science. The Department of Translation and Interpretation was opened in 2006, and the Department of Psychology in 2011. In addition to courses in their own degree programs, all the departments offer general electives which are also open to students from different Faculties; the Department of Mathematics additionally provides eleven service courses in up to thirty-six student groups for other Faculties;
At present, the teaching and research staff in the Faculty comprise seven professors, four associate professors, seventeen doctoral faculty members, five lecturers, three instructors, and two research assistants; the language of education is English in all the departments.
The Faculty's departments offer undergraduate programs in English Language and Literature, Mathematics and Computer Science, Translation and Interpretation, and Psychology. Students in these degree programs have the additional option of pursuing a specialization in a minor field, or doing a double major in a field offered by another department.  Students are accepted into the undergraduate programs in each of the department as regular students; or, according to set quotas, on a half- or full-tuition scholarship.  There is also a quota for quarter-tuition scholarships in the Psychology department.
In addition to undergraduate programs, the Department of English Language and Literature offers both master's and doctoral degree programs, and the Departments of Mathematics and Psychology offer master's degree programs. As of 2018, there are thirty-one master's and six doctoral students in the graduate programs in "English Literature and Cultural Studies"; two students pursuing their master's degrees in Mathematics; and nine students in the master's program in Psychology (seven in  "Social and Organizational Psychology" and two in "Cognitive Psychology").
The Faculty's educational facilities include three laboratories designed to provide its students with opportunities for applied research and training: the Andaş Translation Laboratory, the "Translation and Interpretation Free Practice Laboratory, and the Experimental, Cognitive, Social and Clinical Psychology Laboratory (PsychayaLab). Outside of courses, these laboratories may be used for scientific research conducted by students, both under the supervision of instructors, and independently.
The primary educational objective of the Faculty of Arts and Sciences is, through its carefully designed course programs and with its experienced academic staff, to foster the development of students who can think independently, have a critical point of view, do research independently, and make well considered and appropriate decisions based on their research. Its mission is to achieve this objective by maintaining and continuing to further teaching, learning and research at the highest level, and to educate graduates who will live productive lives and contribute to the progres and betterment of society.